2017 Annual Letter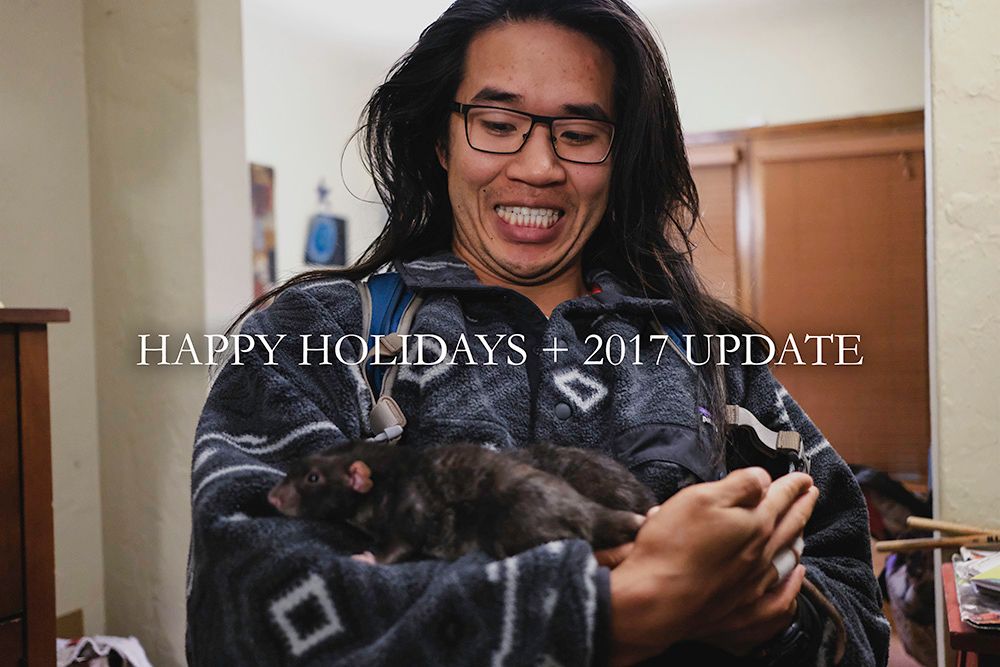 Happy holidays, <First Name!>
I'm currently in Chiang Mai, Thailand after a few weeks in Vietnam and Cambodia. In a few minutes, I'm about to head off on a 3-day motorbike loop through the Himalayan foothills, where I'll be spending a night in Mae Hong Son and then Pai, a hippie enclave in the mountains, for NYE.
I want to extend my warmest wishes this holiday season this year with the second installment of the holiday email I send out every year. I've improved on it this year by automating everything via Mailchimp. I've gotten to catch up with a lot of friends this year, but in case you weren't one of them (or if we're due for another catch up), I want to hear from you! You can reply directly to this email.
Here's my year in summary: I'm still in grad school in San Diego and I hope to the gods 2018 will be the last year of it. I'm transitioning out of science and going into something less soul-crushing and more fulfilling, like management consulting (although I've also been having a few entrepreneurial itches this year). My travels this year have brought me to Mexico, Denmark, Sweden, Norway, Japan, and those aforementioned countries where I am now. I've been "off coffee" for a while but now I'm back on the habit; there's just no kicking it, but when coffee keeps getting better, why would I?
Anyway, it's been a great year for me, and I hope it's been great for you as well. Hope to hear about all the great things from your end soon, <>.

Best wishes to you and your family. Keep in touch.
--Westley
Achievements
Finished another milestone in my graduate program, the Original Research Proposal, in which I wrote an NIH grant proposal to study how zebra finches learn to memorize their songs from only a few exposures. It was a good two weeks of reading and writing on a different topic than my graduate work, and reminded me of why I love science in the first place. Alas, it was not enough to convince me to commit to a career of it.
Did I ever mention I live in my car? It's been approximately 31 months now (since July 2015). I also gave a public talk to an audience of 400+ people on how Living In My Car Made Me Happier. It's on Youtube, it's five minutes, check it out! You make a game out of finding where I tripped on my words.
Served a year as a co-chair of Surfrider Foundation San Diego's Rise Above Plastics committee, and now moving on as RAP's Policy Coordinator to learn about policy work and how to affect change via local government, which is hell of a lot easier and more fulfilling than trying to achieve anything at the federal level.
Served as Graduate Student Council's first President, where I helped transition our small student committee into a student council slash advocacy group.
Spoke as a panelist at HALMA's Innovation and Technology conference to speak on "what Millennials want from their employers" to a ton of chief executives (this is hilarious because I've never really had a job)
Just two weeks ago, my team and I won 1st place in the IXL Center's Global Innovation Olympics, a global consulting competition in which I helped my client work out a strategy to enter the Smart/Connected Kitchen market.
The Fun Stuff
Finished my first triathlon in Santa Cruz, which also happened to be a half-Ironman (1.2 mi swim, 56 mi bike, 13.1 mi run). It was fun. Open water swimming is disorienting. Biking is easy. But running is grueling after both of those things.
And after eating so much maltodextrin on race day, I swore off carbs and tried a ketogenic diet. I didn't make it past day 2. I didn't realize fruits count as carbs.
I've rekindled my love of photography with my new rangefinder camera. I've been deliberately practicing photography as an art by doing photo assignments with a good friend of mine. You can see the assignments on my Instagram!
I have a surfboard and a spearfishing spear. I'm still not very good at either of them. The ocean is absolutely frightening, yo. I went swimming and freaked out at four leopard sharks because I thought they were conspiring against me.
Scandinavia blessed me with a ton of sun in Denmark, Sweden, and Norway! I ate whale meat (like a goddamn a tourist), fika'd at the beach, and basically fika'd every day. Then I continued to fika every day when I got home and now I'm broke.
I've listened to the entire Hamilton soundtrack at least 100 times. I know more about a musical than I do about Yemen.
It's been over a year off of Facebook and I've never been happier. I choose my news sources now instead of getting it force-fed by Facebook. If you ever considered taking a leave of absence, I highly recommend it. You can still keep Messenger when you deactivate!
I'm still working on my website, which I will share with you all soon. I want to keep writing essays and reflections, and be comfortable enough to share it with the Interwebz. Just keep checking www.westleydang.com every day, or maybe sign up for the announcement email.
Top 3 books I've read this year:
15. Deep Work by Cal Newport. This book hands down gave me the best reason to quit social media (besides Instagram) and quit my phone to live a life of deeper focus. 10/10.
16. The Boys in the Boat: Nine Americans and Their Epic Quest for Gold at the 1936 Berlin Olympics by Daniel James Brown. I laughed and cried several times throughout this historical biography. It's definitely helped that I had crew experience but I think it's still an outstanding book even if you didn't. 10/10.
17. Small is Beautiful: Economics as if People Mattered by Ernst F. Schumacher. This book changed my life. It's completely refactored my perspective on economics and reinforced my thoughts on capitalism. Schumacher writes convincing arguments on the spiritual, moral, and ecological externalities of worshiping "the economy." 10/10.